MEYER ESTATE AUCTION - Live
Saturday, June 25th, 2022 at 9a.m.

Sellers: The Family of the Late Tommy & Carol Meyer

In settling the estate of our parents Tommy & Carol Meyer, the following real estate & personal property will be sold at auction.

Tommy and Carol bought this farm shortly after they were married and built the home where they raised their family. Being natives to Glasgow and Fayette they are no strangers to the area. Tommy worked as a technician for GTE and Carol had a hair salon in Fayette as well as a rural mail route in Harrisburg. They enjoyed going to auctions and have collected many items over the years. This is a large auction that will be sold in 2 rings. There is certain to be something for everyone. Please plan to attend.

Location: 13100 Bethlehem Rd, Harrisburg, MO

Directions: From Harrisburg, take MO-124 East to State Hwy E. Turn right on State Hwy E and continue approximately 1 mile to Bethlehem Road. Continue on Bethlehem Road to auction. From Columbia take State Hwy E approximately 12 miles to Bethlehem Rd. Turn left on Bethlehem Rd and continue to auction. Watch for sighs day of sale.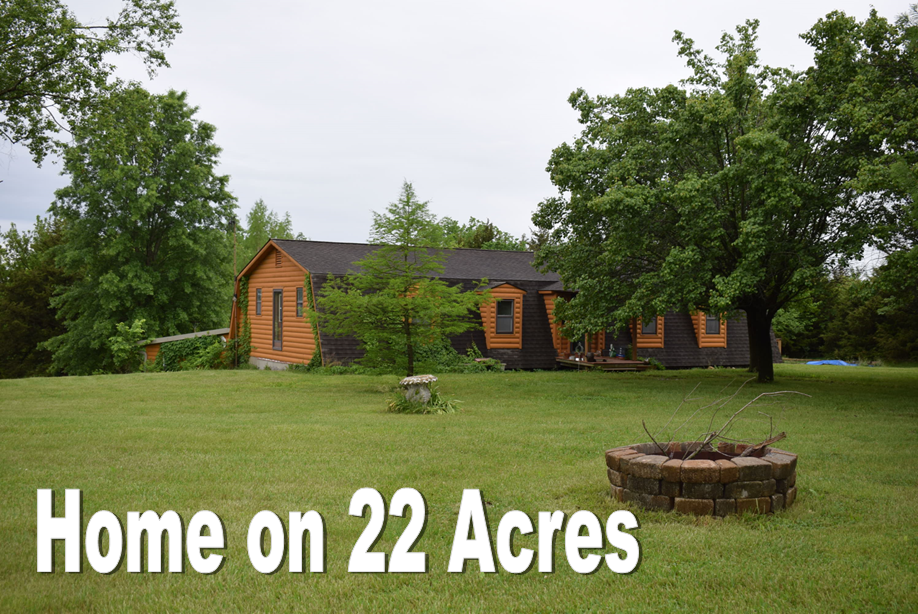 ...
Real Estate Sells at Noon
Home and 22 Acres m/l located at 13100 Bethlehem Rd in Harrisburg, MO. This home has been a continuous remodeling project for the Meyer family since they built it in 1982. The current configuration of the home consists of 3 bedrooms and 1 bathroom. The home has a total of 3424 square feet and has huge potential. Upon entering the home on the main level, you enter an unfinished foyer. This room has a closet and a recessed window and is the location of the attic fan. The walls and flooring are unfinished in this room. Off this room is an additional unfinished room that has the potential to be a large master bed/bath. This room does not have electricity, sheetrock or flooring and is essentially a blank slate. It has 4 recessed windows and 2 additional windows that allow for ample natural light to enter the room. There is a door that allows for exterior access to an area that would be great to add a porch. On the other side of the foyer lies the eat-in kitchen and formal dining room. The kitchen features oak cabinets and modern stainless appliances. There is also a built-in china cabinet and 2 recessed window nooks. Off of the kitchen is a room that was currently being remodeled as a pantry. This room could also serve as a bathroom as it is also a blank slate. The formal dining room also has a recessed window that has built-in storage on each side. There is exterior access from this room to the newly added patio. Both the kitchen and dining room feature oak hardwood floors. A rustic staircase leads to the walk-out basement. This level of the home has a large family room that has a warm morning stove installed as well as 3 bedrooms, a laundry/utility room complete with a walk-in shower, 1 full bathroom and a storage room. An enclosed patio was added on to the home. This room runs the full length of the home and is accessible through the family room and one of the bedrooms. All bedrooms have a window that looks into the patio area. The home is situated in the middle of 22 acres m/l with a sizable yard. The remaining acreage consists of pasture and timber. The property also has access to a shared lake. This property is less than a quarter mile off of blacktopped Highway E just outside of Harrisburg, MO. It is situated in the Harrisburg School District and is conveniently located only 12 miles from the Stadium Blvd. Exit in Columbia. This country acreage would make a great place to raise a family or get away from the hustle of the city. You don't want to miss this opportunity. For more information or property viewing call Cody at 660-888-3460 or Teresa at 660-888-9518.

Special Note: Please note that interior pictures were difficult to take due to the varying states of remodeling and the need to disperse of the personal property. Please call to schedule an appointment to view the property.

Real Estate Terms: $15,000 down day of sale (non-refundable) in the form of personal check with bank letter or certified funds, balance due at closing within 45 days. The seller is motivated to sell but reserves the right to accept the final bid.
Personal Property
TRACTORS & IMPLEMENTS
1966 John Deere 2020 Tractor w/ Loader, Gasoline, 3537hrs (in running condition) – Kubota B7100 HST 4WD w/ 60" Mowing Deck – New Holland 442 5' Disc Mower – New Holland Hayliner 272 – PT102 2-BasketTedder – Massey Ferguson Model 25 Bar Rake – JD 7' Sickle Mower (pitman arm needs repaired)

TRUCKS & CLASSIC CAR
2001 Dodge Ram 1500 4x4 SLT w/ 200k+ (starts but running condition unknown) - 1999 Toyota Tacoma SRS Automatic Transmission 4x4 w/ 191,400 Mile (has broken frame, starts and runs) – 1994 Dodge Ram 1500 V8 (does not run) – 1955/56 Chevy 640 w/ Dump Bed - Ford GT 390 Fairlane (original 390 motor & transmission)

BOATING
1980s Aluminum Fisher Marine SV-3 Boat w/ Suzuki 75hp Motor (running condition unknown) - Bayliner Capri Boat w/ 50hp Motor & Trailer – Evinrude 6hp Boat Motor – 14' Rich Line Aluminum Boat – Fiberglass Canoe (Leaks) - Old Town Kayak

MOTORCYCLES
1982 Honda Aspencade 1100CC Motorcycle, VIN 1HFSC0224CA216100 (running when parked but hasn't run in many years) – 1986 Honda ATV (running, but rough condition) – Honda Z50 Minibike (not running) – Suzuki 185, VIN TC185-2116 (no title, running condition unknown) – Suzuki GS450, VIN GS450-710631 (no title, running condition unknown)

ANTIQUES & COLLECTIBLES
Pitcher & Bowls – Various Figurines – Home Décor – Fairy Lamps – Hand Painted China – Glass Grapes – Mini Oil Lamp – Fenton Burmese Bird – Pattern Glass – Cut Glass & Crystal – Goofus Glass – Wild Turkey Decanter – Pillar Mantle Clock – Griswold Cast Iron – Steins – Budweiser Tray – Campfire Marshmallows Tin – Pepsi-Cola Tray – Hand Painted Saws – Ford Shelby GT500KR Radio Controlled Car – Keen Kutter K110 Food Grinder – Ceramic Chicken Hen/Chicks Planter – Costume Jewelry – Fur Coats – Various Greek Statues – Old Soda Bottles – Old Fiddle

HOUSEHOLD & HOME DÉCOR
Drinking Glasses – Stemware – Small Kitchen Appliances – Scimitar Knives – Kitchen Utensils -Baking Pans -Canister Set – Corning Ware – Glass Bake Ware – Punch Bowl - Flatware – Plastic Storage Container – Food Save – Bread Machine – Soft Serve Ice Cream Maker - Various Glass Service Wares - Various Kitchen Wares – Ikon Juicer – Cuisinart Ice Cream Maker – Bagel Toaster – Victoria Cast Iron Grill & Tortilla Iron – Sausage Stuffer – Pots/Pans – Crock Pots – Punch Bowl – Kitchen Organizers – Cast Iron Dutch Oven – Stainless Bowls – Steamer – Copper Cookware – Canning Jars – Big George Rotisserie - Cast Iron Cook Wares – Carillon China Set – Shark Rocket Vacuum – Shark Steam Mop – Weight Benches – Beauty Shop Supplies – Holiday Décor – Halloween Costumes – Various Home Décor – Kid's Toys/Books/Games – Sharp CD/Radio/Cassette Stereo – Large Selection of Cast Iron Cookware - Native American Décor – Philips CD/Radio/Cassette Stereo – Total Gym – Shark Navigator Vacuum – Various Electronics – Kenwood Stereo Receiver - DVD/VHS Players – DVDs/CDs/VHS – Schwinn Recumbent Exercise Bike – Various Exercise Equipment – Purses – Various Men/Women's Hats – Office Supplies – Artificial Flowers – Hanging Gun Racks – Quilts, Blankets & Other Bed Linens – Towels – Canning Supplies

FURNITURE
White Clad Oak Cabinet – Glass Top Wrought Iron Dining Table & Chairs, Matching Hutch – Lg. Framed Beveled Mirror – Drop Leaf Dining Table – Oak Cabinet – Lamp Table – Gold Framed Mirror – 2-Drawer Oak Sofa Table – Framed Wall Décor – Antique Curved Front China Cabinet – East Lake Style Parlor Table – Edison Phonograph – Console Stereo – Antique Victor Radio – Chrome Smoke Stands – Green Wicker Stool – Ornate Gold Framed Oval Mirrors – Vintage Speakers – Copper Toned Lantern Floor Lamp – Square Lamp Table – Drum Lamp Table – Various Table Lamps – Small Drop Leaf Kitchen Table w/ 2 Chairs – Rocking Chair - Maple Rocking Chair – Singer Sewing Machine in Cabinet – Glass Front 8-Gun Cabinet – Jewelry Armoires – 5pc Blonde Bedroom Set (Full bed, dresser, armoire, 2 nightstands) – Lane Padded Bench w/ Storage – Bookshelves – Ornate Wood Carved Dressing Screen – Metal Wardrobe – Waterfall Vanity – Maytag Neptune Washer/Dryer – Oak Serpentine Front Dress (no mirror)

OUTDOOR & UTILITY
BCS 737 Walk Behind Tractor w/ Rear Tine Tiller 10hp, Made in Italy – Power Washer 1600 – Turkey Fryer Gas Cooker Combo – Fiberglass Extension Ladder – Oak Porch Swing – Outdoor Christmas Décor – Yard Games – Portable Greenhouse/Shelf – Coolers – Bird Cages – Cot – Rolling Clothes Rack – No 289 Pot Belly Stove – Planters of All Sizes – Wheel Barrow – Plaster Cherub Fern Stand/Pillars – Bar Height Glass Top Patio Table – Plaster Greek Goddess Fern Stands/Pillars – Wicker Rolling Plant Stands – King Pedestal Plate Heater (new) – Country Home Elec. Log Splitter – Stok Quattro 4-Burner Gas Grill – Excell Premium 2500PSI Pressure Washer – Expandable Outdoor Dining Table (nib) – Multipurpose Table w/ Sink (nib) –Bamboo & Birds Plaster Pillar/Fern Stand – Various Lawn & Garden Tools – Stihl Blower – Garden Stakes – Garden Push Planter – Little Red Wagon – Landscaping Timbers – Metal Tractor Seat – Various Skateboards -

SHOP RELATED ITEMS
Makita 10" Miter Saw – Miter Box & Saw – Hegner MultiMax-2 Precision Saw – Craftsman 10" Table Saw – Central Machinery 1/3hp Drill Press – Craftsman Circular Saw – Craftsman Stackable Tool Chest – Various Hand/Power Tools – Spraying Mantis – Shop Smith Multi-Purpose Tool – Craftsman 10" Radial Saw – Terratek 6" Bench Grinder – Various Hardware – Air Compressor

SPORTING GOODS
Freedom Security Big Boy 36 Gun Safe, 62,000BTU Rating, 30minutes at 1200 Degrees - Fishing Poles – Bear Glass Powered Black Bear Recurve Bow – PSE Archery Recurve Bow – Pro Hoyt Recurve Bow - Browning Kwikee Kompound Bow – Daisy Youth Archery Crossbow – Daisy Red Rider BB Gun - Bandit Cross Bow – Hou Shiueh Cross Bow Pistol – Various BB Guns – Various Holsters – Various Ammo – Various Hunting/Fishing Knives - 6-Gun/Fishing Pole Cedar Racks – Ice Fishing Pole – Trolling Motors

HOME REPAIR/REMODELING
Various Unfinished Oak Cabinets – Various Interior/Exterior Doors – Various Trim - Light Fixtures – Plumbing Fixtures – Bathroom Vanity & Matching Linen Cabinet – Various Lumber – 2-Bay Porcelain Sink – Bamboo Flooring 1/2x5", 19.91ft2 per Box, 8 Boxes total

This is a partial listing. Many more items are yet to be uncovered.

**Click to Enlarge Photo**
...
Cody Martin (660)-888-3460 Teresa Martin (660) 888-9518 Terry Quinlan (660)-888-9493